LARRY BIO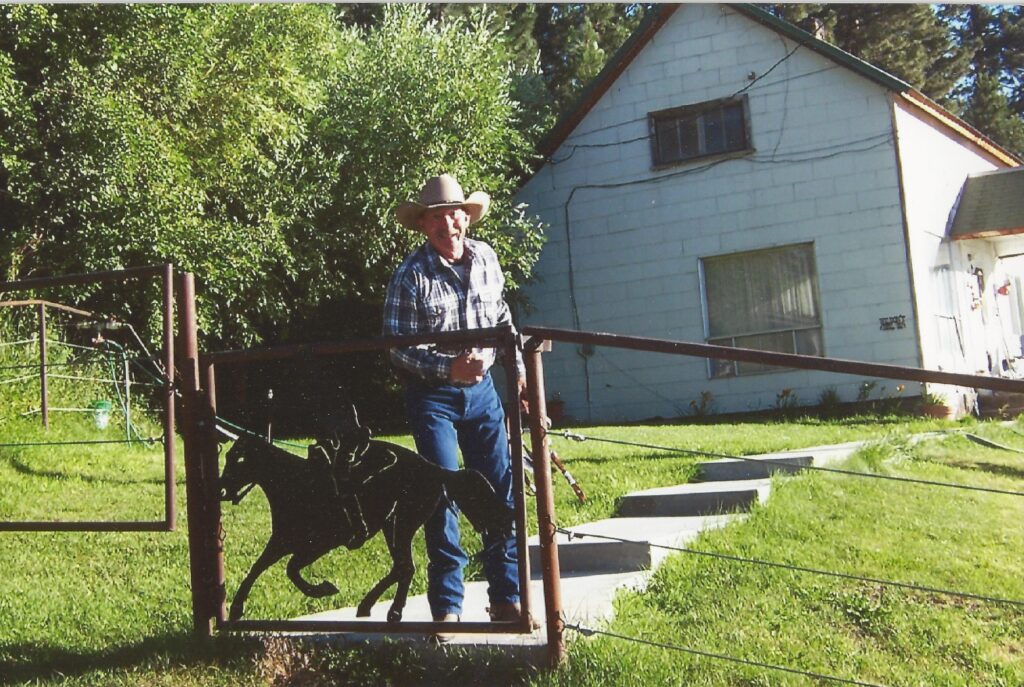 FOURTH GENERATION TO RAISE AND TRAIN QUARTER AND PAINT HORSES ON THE TOWNSEND RANCH. ALL HE EVER WANTED TO BE WAS A COWBOY AND HE IS THE REAL DEAL! HE HAS BEEN TRAINING HORSES FOR A LIFETIME. AT AGE 76, HE IS STILL BREAKING COLTS.
RAISED ON THIS RANCH, LARRY HAS BEEN WORKING CATTLE SINCE HE WAS 6. HE HAS TRAINED 4 WORLD CHAMPION TEAM PENNING/SORTING HORSES. HE HAS SORTED AT THE HIGHEST LEVEL OF THE USTPA. 
THERE ARE MORE THAN 25 TOWNSEND RANCH HORSES THAT HAVE WON WORLD, NATIONAL, REGIONAL, AND STATE CHAMPIONSHIPS; AS WELL AS 9 FUTURITY COLT WINNERS.
LARRY HAS COACHED AND TRAINED 11 WORLD CHAMPIONS IN MOUNTED SHOOOTING. HE STARTED COWBOY MOUNTED SHOOTING IN SWEDEN AND CANADA. HE HELPED THE SHOOTERS IN SWEDEN PUT ON THEIR VERY FIRST SHOOT IN SWEDEN. THE TOWNSEND RANCH HAS PROVIDED HORSES FOR EUROPEAN RIDERS TO COMPETE AT THE CMSA WORLD CHAMPIONSHIPS SEVERAL TIMES. THERE ARE TWO TOWNSEND RANCH HORSES IN SWEDEN THAT HAVE COMPETED IN THE SWEDISH NATIONAL CHAMPIONSHIPS.
LARRY PERFORMED BRIDLELESS ON HIS STALLION, TEXASTEA WILDTHING ALIAS COWBOY DURING THE 2002 OLYMPICS FOR THE OLYMPIC DIGNITARIES. DURING THE 2007 CMSA WORLD CHAMPIONSHIPS HE AGAIN PERFORMED BRIDLELESS DURING THE NIGHT OF THE HORSE STALLION SHOWCASE.  CLICK HERE TO VIEW THIS PERFORMANCE.
LARRY COACHES PEOPLE AND TRAINS HORSES. IF YOU ARE LOOKING TO TAKE YOUR HORSE TO THE NEXT LEVEL; TRY A TOWNSEND RANCH CLINIC.  LARRY WORKS HIS HORSES YEAR 'ROUND IN THE ARENAS AND ON PACK TRIPS IN THE ROCKY MOUNTAINS, BUILDING COLTS WITH STRENGTH, PATIENCE, AND INCREDIBLE WORK ETHIC. 
WINNING IS BELEIVING AND TOWNSEND TRAINED HORSE AND PEOPLE ARE PROVEN WINNERS WORLDWIDE!